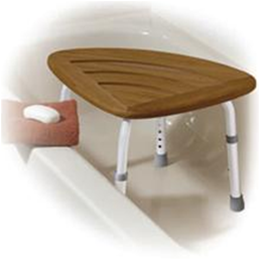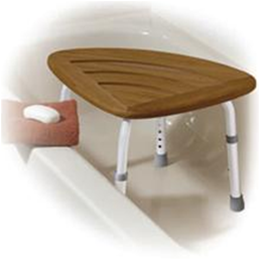 This teak bath stool from Drive Medical is the perfect accessory for
your bathroom. Built with high-quality teak wood, this bath stool has
many great uses. Whether providing a safer bathing environment or more
comfort for grooming it's guaranteed View more
This teak bath stool from Drive Medical is the perfect accessory for
your bathroom. Built with high-quality teak wood, this bath stool has
many great uses. Whether providing a safer bathing environment or more
comfort for grooming it's guaranteed to make your bathing experience
exceptional. The seat's space saving design: a compact triangular
shape, allows for cornered placement in your shower. Teak can withstand
all weather conditions and is renowned for its durability. The stool's
lightweight yet strong legs adjust to varying heights and come
outfitted with rubber tips that increase stability. The product is
protected by a limited lifetime warranty.
Attractive high-quality teak is renowned for its durability and weathering properties.
Ideal for use in shower stall.
Teak will naturally take on a handsome silver grey patina after several months of exposure to water.
Compact triangle shape fits into shower or bath.
Ideal as a personal grooming stool.
Lightweight, durable, adjustable legs.
Large rubber tips reduce slipping.
Limited Lifetime Warranty.
Item Number RTL12350KDR-1
Depth (outside legs) 22"
Depth Seat 16"
Product Weight 9 lbs.
Seat Height (highest) 19"
Seat Height (lowest) 13"
Shipping Weight 11 lbs.W
Width (outside legs) 22"
Width Seat 22.5"
Weight Capacity 300 lbs.